DUNIFORM
Food packaging is a very important for Duni. It is about much more than just solutions for transportation, which is part of the dish. Therefore, the package has a strong influence on the perception of food. Expectations of today's consumers also emphasizes the functionality of the package. Duni's expertise lies in helping to find the right combination plates, packaging equipment and film.
Increase your sales!
Take-away segment in recent years is increasing. Offering food with them is an absolute necessity. The requirement is therefore to have a healthy and tasty food hygienically packed, yet high quality. Therefore, they are looking for solutions that are simple to use, have a wide variety of uses and are easy on the premises.
Duni DF10
High quality of sealing
Compact design – suitable for small kitchens
Wide selection of additional range
Easy handling during use
Learn more about Duni DF10?

Download Duni DF10 leaflet
Duni DF20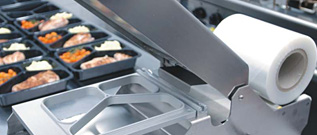 Compact size ideal for small kitchens
High quality of sealing
Simple handling
Undemanding work
Wide selection of additional range
Learn more about Duni DF20?

Download Duni DF20 leaflet