Duni Elegance
CHARACTERISTICS
Combines the properties of a textile napkin with all advantages of disposable towel. Ideal solutions for luxury hotels and restaurants.
MATERIAL
This unique material based on substances is global patent of Duni.
This means that no one else is able to produce comparable napkin.
Napkins are made from environmentally bleached pulp, fully recyclable, without solvents.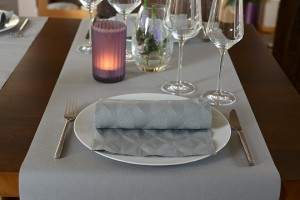 BENEFITS FOR restaurateurs
no washing, starching, ironing
no problems with hygiene – stains etc.
no excessive investment, slightly calculable costs
no storage problems
high flexibility matching the customers' wishes
BENEFITS FOR GUESTS
always new and perfect napkin
big choice of colors for every occasion
5 compelling arguments why to choose Duni napkins
1. Quality
Duni Elegance is a stylish fabric napkin.
2. Profitability
Save money. No washing, ironing and complicated handling.
3. Effectiveness
It also saves money. Just order the package and store as many as you need.
4. Variety
Duni Elegance is available in 11 different colors and two different designs – and Crystal Lily – suitable for every occasion.
5. Ecology
Material produced without the use of chlorine and fully recyclable, any color without the use of solvents.